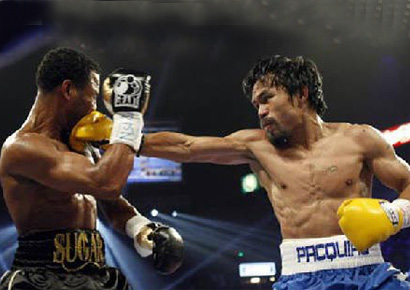 Two judges gave all the rounds to the Filipino pound-for-pound icon while one handed Mosley a round. The scores came out 119-108, 120-108 and 120-107.
"He felt my power so he didn't want to fight toe to toe," said Pacquiao, who had Mosley on his heels the entire 12 rounds. "I was surprised he just ran and ran.
"He was always running every time I wanted to throw a lot of punches."
Pacquiao knocked Shane Mosley down in the third round with a one-two capped with a left straight that floored the challenger at the 1:17 mark. Mosley spent the rest of the bout in circles, staying away from the crisp combinations the Filipino kept uncorking.
Mosley floored Pacquiao in the 10th with a push, but referee Kenny Bayless inexplicably ruled it a knockdown. None of the judges seemed to have bought it judging from the scores. Television replays showed that Pacquiao was throwing a punch off balance, slipped and went down with a little help from Mosley's right hand. Bayless apologized to Pacquiao after the fight for the mistake.
Pacquiao didn't get the knockout he wanted, but the Filipino congressman kept his spot as boxing's top pound-for-pound fighter.
The southpaw from Sarangani, who suffered from leg cramps in the middle rounds, dominated from the opening bell as Mosley spent the majority of the fight in full retreat, bringing back memories for Pacquiao and his trainer Freddie Roach of a similar one-sided fight with Joshua Clottey last year.
Mosley had claimed he would expose Pacquiao's weaknesses but there was no turning back the clock for the 39-year-old four-time world champion, who looked every bit his age.
"He (Mosley) didn't try to win," Roach said. "He just tried to survive and when you get to that point in boxing it is time to call it a day."
Pacquiao (53-3-2, 38 KOs) was the aggressor, pushing forward and trying without success to go for the knockout, especially in the third and 11th and 12th rounds.
After the fight, the multi-talented Pacquiao was scheduled to head across the Las Vegas strip to the Mandalay Bay hotel for a singing engagement with his band at a "Beach Party" in his honor.
In keeping with the party theme, he appeared at the post-fight news conference with American socialite Paris Hilton joining him and his wife, Jinky, at the podium.
Pacquiao threw 552 punches compared to just 260 for Mosley. The biggest problem for Pacquiao wasn't his opponent but rather cramping in his left leg which began in the fourth round.
"I told my coach to press my legs because I can't move," Pacquiao said. "My legs tightened up during the fight. I couldn't move. It is the same thing that happened to me against (Juan Manuel) Marquez. Now it has come back."
Mosley said he didn't hear the chorus of boos and denied that he is showing his age. Even though he comes from nearby Pomona, California, Mosley's fans were heavily outnumbered at the MGM Grand Garden Arena.
"You can't blame age," Mosley said. "Manny is an exceptional fighter. He truly is the pound-for-pound king. He has speed and power that I have never felt before.
"He surprised me with that power with the knockdown. That's the most legitimate knockdown on me in a long time."
Indeed it is the first time Mosley has been knocked down in nine years, since losing to Vernon Forrest in 12 rounds.
Pacquiao earned close to $15 million while Mosley collected about $5 million.
Up next for Pacquiao is a third match with Juan Manuel Marquez in November.
Pacquiao was defending the title he won from Puerto Rican Miguel Cotto in 2009, where he stopped his rival in the 12th to become the first fighter to win titles in seven different weight classes. A victory over Antonio Margarito gave Pacquiao an unprecedented eight division crown.
Pacquiao extended his win streak to 14 bouts and improved his career record to 53-3 with two drawn.
Pacquiao was supposed to fight Floyd Mayweather last year but that fell through in a dispute over drug testing. Pacquiao said Saturday that his legacy is solid with or without a Mayweather fight on his resume.
"I don't care about that fight," Pacquiao said. "I am satisfied with everything that I have done in boxing."
Share This Story to Your Friends ---