Lady Gaga, the American pop sensation, has made internet history by becoming the first person to collect 10 million Twitter followers. Lady Gaga, one of the most prolific celebrity 'tweeters', has consistently gathered more followers than digital rivals such as Britney Spears andJustin Bieber, reports MSNbc.com.
The pop singer and fashion queen has 400,000 more followers than the next largest Twitter user, Justin Bieber, who has 9.6 million followers. President Barack Obama has around 8 million, while pop superstarBritney Spears has 'only' acquired 7.8 million followers. The social mediatracking site FameCount states that the new record, "marks the third in a series of social media landmarks for Lady Gaga and the world over the past year".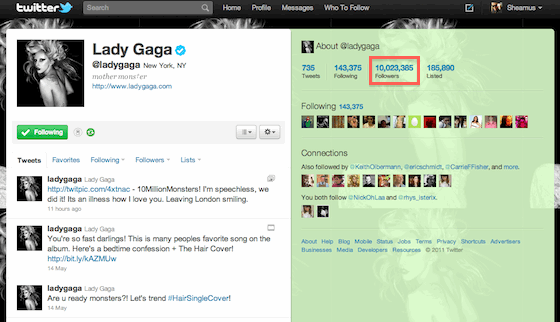 The site notes that in July 2010, Gaga was the first living person to achieve 10 million Facebook 'likes', and in October 2010 she became the first to reach 1billion views on YouTube. Despite Gaga's record breaking exploits, she has since been overtake in 'YouTube views' by Bieber and has been knocked into second place on Facebook by rapper EMIMEM. American actor Ashton Kutcher is regarded as a likely contender to steal Gaga's Twitter crowd. The 33-year-old was recently unveiled as Charlie Sheen's replacement on 'Two and a Half Men', and he already has over 6 million followers.
Lady Gaga celebrated her social networking record by telling her followers, "10MillionMonsters! I'm speechless, we did it! Its an illness how I love you. Leaving London smiling"
As of this afternoon, Gaga has accumulated over 10,067,092 followers, while The Biebs remains steady at 9,677,376 as he continues on the Japan leg of his "Never Say Never" world tour.
It doesn't look like the Gaga/Bieber Twitter battle will end any time soon. She has been edging out The Biebs for a while now, but don't underestimate the power of Beliebers… or Little Monsters!
Share This Story to Your Friends ---